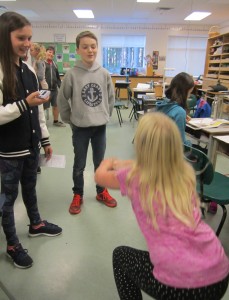 Hey readers,
How many squats can YOU do in 30 seconds? You would be surprised at how many squats our class can do. Lately we have been working on a data analysis project were we gather data from a experiment that we conduct.
1. Our Inquiry Question :
Our group asked people how many squats can you do in 30 seconds?
2.Our Equipment :
We really didn't need much for our experiment. A timer and a list of everybody's name in our class. Simple!
3. The Procedure:
We ask any one that wasn't doing a different experiment if they wanted to do squats. If someone had free time they would come to our station and do squats for 30 seconds properly squatting. If you do one that our team thought was not a proper squat it didn't count.
4.Control Standards
Control standards are to make the experiment fair so every one is doing the same experiment. Our control standards were you had to have your legs shoulder length apart, hands straight out in front of you, You have to look like you are sitting in a tiny chair when you go down and you have to start with your hands by your side.
5.Predictions
My prediction before the experiment was that the average will be 30.
6.Our Data
This is what people got:
16, 20, 22, 24, 24, 24, 25, 25, 25, 26, 26, 28, 28, 28, 29, 31 and 33
Daniel was the one that got 33!
7.Analysis Of Our Data:
We had no outliers for this project. We were going to say that 16 was an outlier but then we decided to not say that they were one because there was only a four number difference. For mean, median, mode and range we got this:
Mean: 457÷18=25
Median: Median: 25+25=50. 50÷2=25.
Mode: 25, 24 and 28 Because that is the most common number
Range: 17 Because 33-16=17
I think that the mean is the most appropriate measure to use because all of the numbers  don't have a big difference to each other.
Have a wonderful day,
~Kayley♥